Hi everyone, we are back at our studio in Stuttgart!
How time flies by. About a week ago, we were constructing our booth out of countless (mostly) handcrafted elements in hall 10.1 on the koelnmesse areal – which took us hours of screwing, attaching, glueing, connecting, fixing and adjusting. But eventually, we finished our first stand-alone booth, after we have attended Gamescom for two years as part of the Indiearena Megabooth.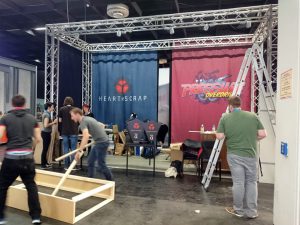 It really was worth the effort. We can humbly say, that our place certainly had its very own appeal, amongst the other exhibitors around us. Which contributed to the diversity Gamescom 2016 doubtlessly had to offer. But more important, of course, were the two games we were showcasing this year: Heart of Scrap and Pressure Overdrive. And speaking of diversity, both games offered good reasons for visitors to stop by. Be it thoughtful strategists or action maniacs, our battlestations and arcade couches welcomed many gamers of all ages and origins.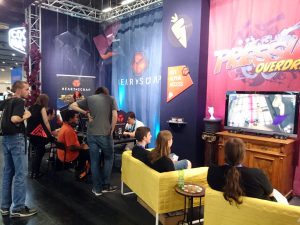 Even though it was not the first time we were showcasing on a tradefair, it is always an unique experience to watch people play what we we've been developing over the course of months. The focused looks of being immersed, the smiles and shouts while competing with other players… and of course the valuable and honest feedback we have received. Thinking back to those many great moments still gives us goose bumps. And these experiences, our own booth with those two games, again emphasized for us, what it really means to be indy – to shape our vision the way we feel is right and enjoyable.
So time did fly by, and all of a sudden Gamescom 2016 was over. Five days of not only presenting our own games, but also playing many other, from intense VR titles, over AAA creations to highly individual indie projects. Five days of meeting industry experts, passionate gamers, visiting a few parties and getting a glance of the what Cologne has to offer in terms of tasty food. This year's Gamescom was probably the most exciting one – and definitely not the last.
Thank you for your hospitality, Cologne. See you next 2017!