After six months of being a highly skilled support for our code devision, Christopher's internship finally is over and he's heading back to Flensburg to focus on his Bachlor-Thesis. It's been a great time and we wish Christopher all the best – not only for his studies, but also for his wedding!
As sad it is to say goodbye to Christopher, we are happy to welcome his successor, Benno! He will help us get Pressure Overdrive out into the world, soon, and then return with us to Heart Of Scrap. So, a big Welcome from all of us. We're looking to have a really orange time with you! 😉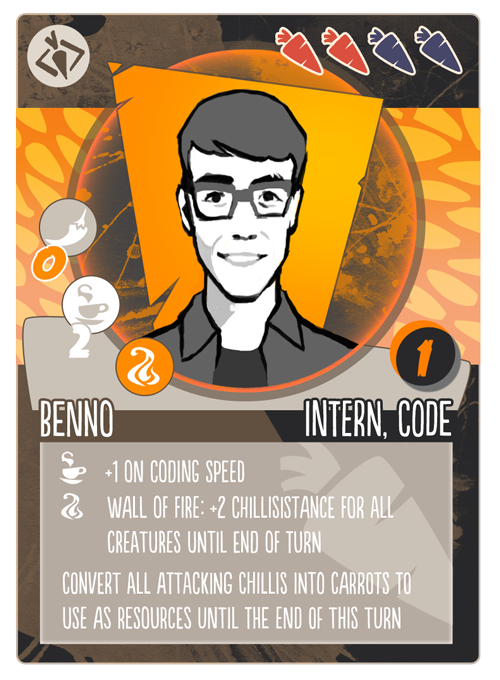 You might be curious about Benno, so we've put some information about him on a neat Collectible Carrot Card. By the way, keep your eyes open, more cards about our team will come up in the future, now and then. And for those of you who want to know more details about Benno, he was kind enough to share some…
Who are you and what do you do at Chasing Carrots?
Hi, my name is Benno Graze I'm 21 years old and doing an internship as coder at Chasing Carrots. The internship is part of my media informatics studies.
What kind of games do you like and what are your favorite games?
I'm a huge fan of the Mass Effect series, even if I don't play a lot of singleplayer games. I like oldschool Real Time Strategy Games like Age of Empires Series or Empire Earth 1 but I'm also looking forward to the new Dawn of War III. Competitive or Cooperative Survival Games like Rust or The Forest are also pretty fun. Overall I play a lot of very different games from Arma III over Emergency 5 to Dead Space. An important Part for me is, that I can play the game together with friends or other random players. Generally I'd say that I prefer Science Fiction oriented games but that depends.
What was your first gaming experience?
Either it was the Gameboy Color or some PC games for kids. My first "real game" for PC was The Sims 2 in which I spend a huge amount of time, even years later.
What is your craziest hobby?
I'm a volunteer firefighter which takes a lot of time cause of training, events and responds. I'm also involved in our junior fire department as assistant advisor and so I do a lot of planning, keeping our website up-to-date or organizing some trips, events meetings or training sessions. Overall it's a great hobby for me cause it's completely different to my work, studies or other freetime activities. It's also a great thing that you can help your community by being a firefighter.