We keep on attracting talented people from (far) beyond Stuttgart. After Marc moved here from Luxemburg, Connor from the US, and Johanna from Saarbrücken, please welcome our new intern Clara! She has temporarily left Darmstadt, Hesse, to support our 3D art department. Usually, new Carrots are happy to share some personal insights, and Clara holds up to that tradition.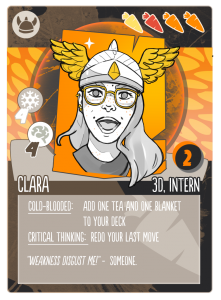 Who are you and what do you do at Chasing Carrots?
Hey, I'm Clara, I'm studying Animation & Game at the University of Darmstadt and I'm the new intern at Chasing Carrots. I am specialized in environment art and level design and I support the art department.
How and why did you become a game developer?
When I thought about what I wanted to do for a living, I was sure I wanted to do something I love and where I could express myself (yeah, I know, such a millennial thinking :D). So I decided for the game industry because developing games has so many different and creative things to offer.
What are your all-time favorite games?
Hollow Knight: Gosh, this is such a good game. Never played it? Go, do it! Now! Stardew Valley: Building up your own farm, getting a nice woman or man. What could I wish more for in my fake life? Tetris: Classic, I know, but man, I love organizing stuff and I just can't stop.
What was your first gaming experience?
I think the first game I owned was Pokémon Crystal for a Pikachu themed Gameboy Color. Man, I loved this Gameboy! Next, I remember Kingdom Hearts: Chain of Memories for the Gameboy Advance SP. I never managed to play it through, though.
If you could be a game character, you would be…?
I thought about this one a lot, but actually, every game character has to overcome some kind of huge obstacle and that is way too much work. So I would be some NPC (without a quest :D) in an RPG game. Just enjoying my everyday life and constantly grumbling about the hero.