It's been a while since a new Carrots joined our team. So we're extra happy to introduce Eric to you all, today! He joined us as a working student and will be focusing on Good Company's multiplayer mode, as part of his Master Thesis. Aside from being an ambitious coder, he shows a great variety of interests, as he's keen on sharing below. Welcome aboard!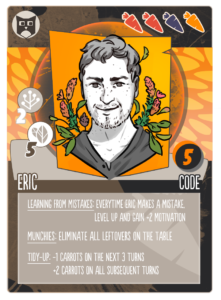 Who are you and what do you do at Chasing Carrots?
Cheers, my name is Eric and I will be working on implementing the multiplayer for Chasing Carrot's latest title, Good Company.
What is the best about being a game developer?
Working in an interdisciplinary team full of creative, interesting people and learning something new every day. Producing fun as a resource is a pretty interesting way to think about game development. Oh, and the whole "creating worlds" stuff, even though that's kind of cheesy, I know.
How and why did you become a game developer?
I was always interested in arts, starting to write from a young age, reading a lot, making music, playing games, and so on. I have also always been a huge nerd, playing around with computers for as long as I can remember. When I was a teenager, I really got into the map editor of Warcraft III, which taught me the absolute basics of programming. Now, take these two passions and you get "game developer".
For the longest time though, I used to think I just did not have what it takes to work in games. Looking around myself, I saw all these talented, passionate people and then I looked at myself and I just thought something along the lines of "Why even bother trying?"
Turns out that was a great strategy to avoid ever getting my anxieties of "not having what it takes" being confirmed, while at the same it effectively stopped me from pursuing this passion altogether.
Eventually, I overcame this, applied with Chasing Carrots, and well … here we are. I feel very grateful to be part of the team and I'm looking forward to the next months to come.
What did you do before Chasing Carrots?
There was a time after I finished school when I thought I'd want to become an actor. Acting school was a really great time and I enjoyed it a lot, but in the end, acting as a profession wasn't for me. I learned a lot about myself, though! After some reconsidering, I started studying computer science (really weird experience coming from an acting background) and eventually started making games during my studies. My master's program is still ongoing and I'm aiming to finish sometime next year.
What kind of games do you like?
Games that tell stories, games that are epic, and games that take great care about going into detail. Cooperative games. Social games. Adventures. Experiences. I don't know, it would probably be easier to ask what kind of games I don't like (hint: I suck at sports games like Fifa and Madden; also: most competitive games like LoL, CS, and so on). Generally, I'm a sucker for adventures, role-playing games, and round-based strategy games.
What was your first gaming experience?
I played a lot of the "Löwenzahn" and "Petterson und Findus" point & click games when I was little. After that, it was probably Pokemon Blue.
My first gaming device was
The PC in my dad's office (Pentium III, baby!). The first dedicated gaming device that I owned was a Gameboy Colour that 7-year-old-me probably saved up for about a year or so.
What are your all-time favorite games?
Black & White (still waiting for the remaster, make it happen!), Final Fantasy X, World of Warcraft, Half-Life 2, Prince of Persia: Sands of Time, Journey, Limbo, Inside, Divinity: Original Sin

Who or what is your favorite band/music?
I like folk, triphop, and electronica. Some favorites: Gregory Alan Isakov, London Grammar, Emancipator, M83, Jon Hopkins, Henry Green
What's your craziest hobby?
The longer I think about this question the more boring I think I am. I don't know, maybe … collecting corks of wine bottles I drank on memorable evenings? I'm also into analog black & white photography. Spending a day in the darkroom can really bring you down to earth, it can be a bit like meditating, although I wouldn't say this qualifies as "crazy"…
What would you say, is your nerdiest apparel?
I have a hoodie with a very wide hood that makes me look like some sort of druid. It's the perfect combination of nerdy and cool.
If you could be a game character, you would be…?
Malfurion Stormrage from the Warcraft universe! He's a total badass and shapeshifting druids are super cool.