Unfortunately, we are too busy to update this blog regularly. But today it's a must: For the next 6 months, it's Chasing Carrots +1! Niklas joined our team for his internship. Even though the work-from-home situation due to Corona has built physical distance, Niklas already grew close to us. And we can but hope that we'll be spending at least the summer with him in our lovely office. And now, please welcome Niklas!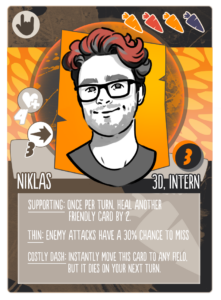 Who are you and what do you do at Chasing Carrots?
Hi, I'm Niklas and I'm the latest intern at Chasing Carrots. I make 3D art, mostly in the realms of hardsurface modeling and texturing.
How and why did you become a game developer?
I remember that ages ago, I found this tool called Blender and thought to myself "Mhhh why not try looking into this program? I'm not really feeling tutorials right now so I'll just hop on in and see what I can get done.". Fast forward about 10 minutes and I had no idea what I was doing and left the program right after. Didn't pick it back up until at least one or two years after, when I actually decided to follow the (sacred) Blender Guru's tutorial on how to make an anvil. Exactly. I did NOT start with a donut DO NOT MESS WITH ME. From there on I just kind of kept learning Blender and also other 3D tools later, when I started University. Creating essentially whatever one wants to is just so cool and that, combined with my love for video games really just required me to put two and two together and now luckily, here I am!
What are your all-time favorite games?
I have a top 15 list but since that's too long I'll just pick some from there that I feel particularly fondly about right now: Risen, Fallout: New Vegas, Dark Souls III, The Witcher 3, Modern Warfare 2, Bioshock Infinite, Divinity: The Original Sin 2 and Skate 3.
What was your first gaming experience?
I'm not 100% sure, but the earliest I can recall is this strange Barbie game that essentially had Crash Bandicoot-like gameplay in an Indiana Jones-like setting. The way I recall it, it was wild. I played that on the one PS1 my family had, which was located at my grandma's house for some reason.
Who or what is your favorite band/music?
It's really really hard to pin this to one artist for me, but if I had to choose I'd probably go with Architects. I really love metalcore but am essentially open to listening to anything!
What's your craziest hobby?
I suppose that'd be riding stunt scooters. And that probably sounds so much more rad than it looks when I do it. I'm really not that good but a nice ol' riding session with friends is always fun.
If you could be a game character, you would be…?
Ciri, as seen in The Witcher 3. Her powers look so insanely cool and like they'd be really fun to use.