Welcome back to our get-together TCG! Today, it's my turn say Hello. Thanks to the merciful imagery on my card (thank you, Chantal!), you won't be able to tell that I'm the eldest Carrot. But since I'm working as a developer for only 3,5 years, I consider myself the youngest team member, in terms of work-years. For more trivia I invite you to follow the lines below.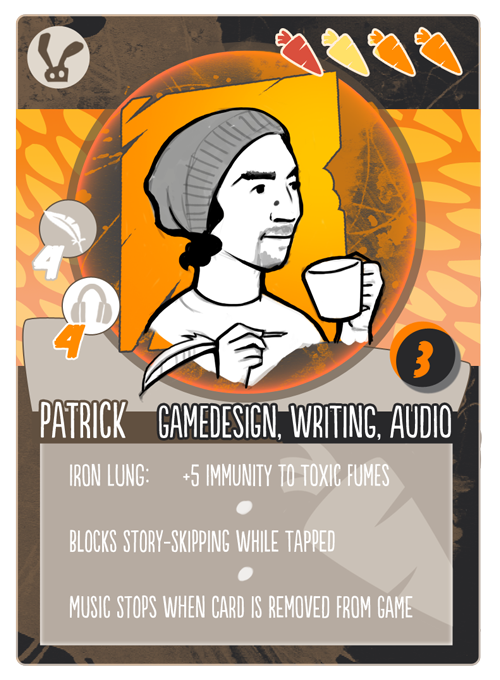 Who are you and what do you do at Chasing Carrots?
Hi. I'm Patrick (the 2nd), carrot of all trades. I'm involved in game and level design, do most of the writing, and recently, sound design. Aside of that I tend for QA and our community affairs.
What is the best about being a game developer?
Tynan Sylvester referred to creating games as 'engineering experiences'. That sums it up. For me, developing a game has an almost physical touch to it. It's like building a space ship with your team. Some work on the engines, some on the controls, others on the hull. One day it lifts off and takes people on a journey. It's amazing to be a part of that process, and journey.
What did you do before Chasing Carrots?
I was working in advertising for almost 10 years when I realized, I need to earn my living with something I can deeply identify with. I always loved playing games, and the rise of the indies intensified this connection. Well, and after I met the Carrots at a game jam (go to jams, folks!), I decided to dare a personal reboot.
What kind of games do you like?
I'm pretty open, genres-wise, but the games I've enjoyed most came from the indie scene. I like titles that have a special touch, a strong core and story. Games that are true to themselves, so to speak. The Talos Principle, Papo y Yo, The Fall, Sword & Sworcery EP, Anodyne or The Dream Machine are examples, that resonated for a quite a while.
My first gaming device was…
…an Amiga 500 which I got for my 10th birthday, along with a box full of *cough*copied games. This was such an unforgettable moment full of wonder. Whenever I remember it, I imagine angels playing trumpets in the background.
What would you say, is your nerdiest apparel?
My small collection of classic game devices, amongst which are a C64, an Atari 2600, and the obligatory Mega Drive and a SuperNES. The most modern console I own is a Playstation 2. Consider this a statement.
If you could be a game character, you would be…?
Hm. The guy in The Proposterous Awesomeness Of Everything, I suppose.